We had a good question from a fan this week on Facebook about why we have chosen the compensation we have for our Hit-Makers packages. So, I thought I would take some time to explain why we've done what we have.
First off, why we haven't chosen KickStarter. Kick starter says that it isn't for for-profit businesses, but it does allow for food service and beer industries. However, it also takes a significant portion of proceeds as a fee. Basically we felt that we were not sure that it made it clear enough that these funds were for a for-profit business and also that we weren't comfortable with the amount of money they were taking off the top. Not that it isn't great, just look at what Four Saints was able to accomplish this summer, really fantastic tool, and it's possible that would have been a better option, but we just decided we weren't totally comfortable with them.
Second, why doesn't a Hit-Maker get a share of the business? This was the specific question asked by someone on our Facebook page. We started this project with that in mind, and really tried to figure out a way to make it work. Unfortunately brewing is a very capital intensive effort. We have to put up a whole lot of capital to buy equipment and inputs. We have to personally guarantee a whole lot of borrowed money as well including huge insurance liabilities and bonds. So, even a relatively expensive package like ours ($249) would only provide the customer with .035% ownership if we tied it directly to capital. That doesn't include personal guarantees or sweat equity, which would like cut that number at least in half and realistically more like .005% or so. So we decided it would be pretty disingenuous to suggest that you were an owner of a company when your percentage was so small. Basically Hit-Makers would have been "owners" but would never have meaningfully shared in profits or decisions if we structured it that way.  Instead, we decided to form a committee: The Hit-Makers and have set aside certain decisions that we will leave in the hands of this committee. That way, Hit-Makers will act as "owners" of the direction of the brewery and share in the "profit" of having a local brewery that produces beer and acts in a way that reflects the community.
So what do we get as Hit-Makers? The thing that I am most excited about is our Opening Party. We have big plans for this including great food trucks, great music and great beer. This will be a really hot ticket, and as a hit-maker you are exclusively invited to enjoy the VIP treatment. Based on our plans, those two tickets will be more than worth the cost of the package. You also get to attend quarterly Hit-Maker meetings in which we will present several test batches of delicious beer and we will vote on the best one as a committee to be brewed in a 5BBL batch. We are also going to allow hit-makers to bring their homebrew in during these meetings to compete with our offerings for a one-off brew. And did you notice the EP Club? That's pretty huge. A dollar off drafts will go a long way even if you don't live in Carrboro. You will also get to pick out your own mug that we'll keep on site that is slightly bigger than a traditional pour so you always get the royal treatment when you're in town. The Platinum Level will also get a dollar off every growler pour, so that's another great way to save money long term on great craft beer. There is also some Steel String gear to make sure you can show off your support of locally committed, superior quality ales.
Value. This was the word we came back to over and over in discussing how to put all these packages together. We don't want you to give us money without getting something back. In a lot of ways getting a Craft Brewery in Carrboro is worth the price of these packages, especially if you are a craft beer enthusiast, but we felt that we went above and beyond in providing tangible value for your generous contributions. We want Steel String to be a Community Supported company, and we think the Hit-Makers package is a great way for you to determine the direction of a brewery.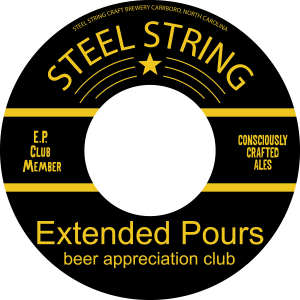 Cheers,
The Steel String Czars