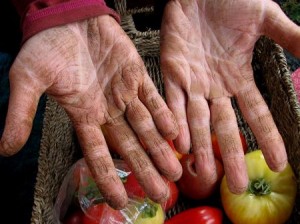 I read something in the paper today, here is a link.  It talks about how our bodies need dirt, I paraphrased a bit.  Talking about farmers' markets "The first lady has hitched her vegetable cart crusade to them."  That creates some nice imagery.  Michelle Obama in full medieval battle gear with a carrot adorning her helmet and a sword length vegetable kabob raised in the air.
This article was interesting because it essentially says that our bodies need microorganisms that aren't necessarily good for us so we can fight them off and improve our immune system's functioning.  Obviously not a new idea but I liked the way he presented it.  I am solidly pro dirt not in a dirty way but in a dirt is alright most of the time sort of way.  I'm left of Top Soil but I bathe.
With beer you don't want dirt in it.  (profound statement)  Malt probably isn't 100% dirt free but mostly it is.  You don't want funky stuff you didn't plan in your beer because of the dreaded "off-flavors" cue the dramatic music, theatrical pause and…bum bum bum.  And you don't want to ferment your beer at the wrong temperature, again "off-flavors".  But when you think about the giant tomato that is perfectly round and flavorless at the grocery store and the one at the Farmers' Market that isn't perfectly round, is smaller, has a bit of dirt on it and flavorful, which one do you pick?  Probably the flavorful one unless you're shooting a food commercial.
So how do we get dirt into beer?  Tough question and probably one that doesn't even warrant being asked, but "Schmistics" isn't a serious blog it is a blog where irrelevant, irreverent and irresponsible questions are asked.  One way is, and I truly hope this catches on,  for Carrborritos (citizens of Carrboro, not to be confused to be confused with Carrburritos the fantastic Burrito restaurant in town) who shop at the Farmers' Market to bring in their leafy greens, tomatoes,  purple cauliflower and grass fed beef and we'll toss it into our fridge for them (if the State allows that, I have no idea) and they can sprinkle some dirt off their bok choy on to a freshly pulled pint.  That way you get beneficial brewers' yeast and your cocktail of microbial matter for healthy immune system development.
A better way, to get dirt into beer and one that won't leave you with a beery dirt milkshake of sorts is to get dirt into beer in a less literal fashion.  Here's how you do it.  You look for companies that provide your ingredients locally.  This is difficult in North Carolina because of our climate but more and more farmers are starting to grow hops suitable for our climate and there are companies providing local malt in NC as well.  NC State University is researching hop farming in our state and Appalachian State is doing work with wine and is developing a fermentation sciences degree.  Companies and programs like these bring the spirit of Dirt into our beer.
I like dirt and  I hope the trend towards dirt continues.  I hope we'll be able to incorporate some local ingredients into our beer, and maybe one day we'll be completely local.  It's a long way off but there is good work being done by some committed and way intelligent people, in our public university system and through local companies.
Here's to dirt!  Prost!