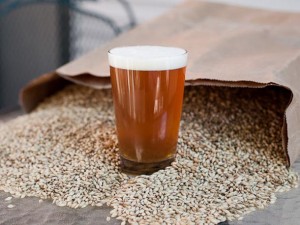 IPA Day, Its IPA Day! What the hell why not? I should have put a little more effort into it and grabbed a bunch of unique ones from a bottle shop but I figured I'd have at least one in the fridge anyway so I slacked a bit. Turns out I had a Little Sumpin' in the fridge. Its really good so I was covered for IPA day. That's kind of the whole point though, why do we have a day for something we all love, have basically always loved and will always love. Is it a tribute to the first craft beer that we all had, inevitably an IPA for a majority of people? Is it just that we figured we needed more days for things? Probably not, I'd lean towards the former. I think IPAs are, and I have no statistical evidence to back this up, but who has good data anyway, the most craft cherry popping beers out there. Let me break it down.
There are a ton of them so that will make it more likely that you'll be converted by one in the first place. Then they are very different, you could have a miller then a nut brown and just think the nut brown was different and better but not earth shattering. An IPA on the other hand generally is earth shattering in the I've been drinking miller lite for the past 3 years sort of way. I don't know the science behind it but I'd bet more than anything its because they are so tasty that we are converted by them so often.
Mine was a Victory Hop Devil, which I don't really buy anymore but it converted me. That's why we have an IPA day not because the need appreciation but because we appreciate them changing us.
We should have a day for every beer style that has broadened us. Farmhouse day, bock day, sour day, we need more days.
And that's all I've got to say about that.